Rumors: Third coin for Transcendence, Bluephone price drop, Vector codec for Videos
---
Quite a lot of talk have been happening on background that has not been news item worthy, mainly because they have not been official, yet something TELOSNEWS.COM readers will probably be interested anyway, hence this Rumors article. Nothing you read here is official unless otherwise stated, and these might, or might not happen. As of now, they are just rumors.
It is official that Bluephone is coming, however, as they have not been available to buy yet and exact details have been missing, TELOSNEWS.COM have therefore refrained from making a news item about it.
Bluephone, in short, is going to be a mobile phone. Okay, so do we need yet another mobile phone? Well, both Android and Applestore prohibit releasing master node running things. As Dev happens to have his own operating system Aeros, he is now in a position to make a phone which will be running a master node on the background. Mobile phones nowadays are anyway on and connected to the internet, usually 24 hours a day, so why not use it to run a masternode and let the mobile pay its price back and make even profit to have money to buy the next one.
Bluephone was originally supposed to be higher priced since the first run was going to be sort of a test run to those interested until the real consumer-run would come at some point in future which would be cheaper.
However, since HuobiGlobal Exchange has now talked of a plan to make a similar idea phone as Bluephone, Dev has revised his plan and is now planning to at least match Huobiglobals price.
Will this new pricing affect the original plan of including a 100k Telos node with each phone, that remains to be seen.
And how tight a fight are we going to get here, remains to be seen too. However, so far Dev has been commenting that what Huobiglobal have released details about their phone don't yet match that of Bluephones, so at least currently we seem to be ahead of the game.
Yesterday Dev went on to meet with Transcendence Associates, to be more specific, board member of the coming exchange and YourBrainOnBlockChain.com partner.
Lots of things were discussed, among these even of a third coin for Transcendence Network.
The idea behind this third coin is very practical. HINT has released an AML4.0 standard, and as it happens to be, Dev already has talked about his VAN-player in 2015 (item 5), which has a codec that in his opinion is the best match for AML4.0 standard currently existing.
VAN can play Vector ANimation, which means that it can save for example Videos in Vector format making it take less space than current video streaming systems and it is completely lossless format in addition meaning that you can have an unlimited amount of resolution and zoom without it becoming a pixel mess.
This third coins main point seems to be in having blockchain for these videos. Basically Dev said coin would be similar to Civic, but more sophisticated, especially on video storage part.
Coins fundamentals would be different from the previous two (that be Telos and Subsidium). This time "mining" wouldnt be open, but you could buy nodes (perhaps through peertoro?) and earn revenue shares. There would also not be any fixed rewards amount.
Dev is planning to ask for EU fund for developing this third coin as it is the closest thing to AML4.0 standard currently, so I guess depending upon how goes with the EU funding, will also depend upon how fast we will hear more about this third coin possibility.
In addition to meeting with Transcendence Associates, they also made a call to Dach coin, and there was talk about a merge. I guess we might hear about this in the near future more, supposing it does happen. Part of the talk was about what will happen toDachExchange in case of a merge, whether it stays or not, and for how long.
While mainly the discussion was of a less concrete in nature about Bitdorado Exchange and other things, there was however one concrete decision too, which was to release a Greenbox. What this is, and what does it do, your guess is as good as mine. However, a hint is that Dev mentioned about CO2 certificate. So that plus the name, it probably has something to do with the environment.
There was also talk about using Bounties to encourage people to join Telos kiva.org team.
Kiva is an organization where you can loan people as little money as just 25 USD, and it will make a big difference to their life in making them be able to put up a business to earn their living, and in best case even get a growing business that will give living to more than just the one you originally loaned the money to. Not only is this very small money for most us, but you are even likely getting it back, in which case you can use it to change another one's life again.
Short mention was that there was talk about marketing/fairs, nothing concrete mentioned about them but I guess we can expect more Gamescom kind of things to happen, which resulted in nice amount of things that you can read about in my previous rumors article regarding Gamescom.
And last was also a talk about new whitepapers. Not that I am personally that interested in them, but if you been waiting for updated ones, then perhaps they are coming too. Anyway, quite many seem to have it as a criterion that if no whitepaper, they don't even dig any further, so perhaps it is good to have updated ones.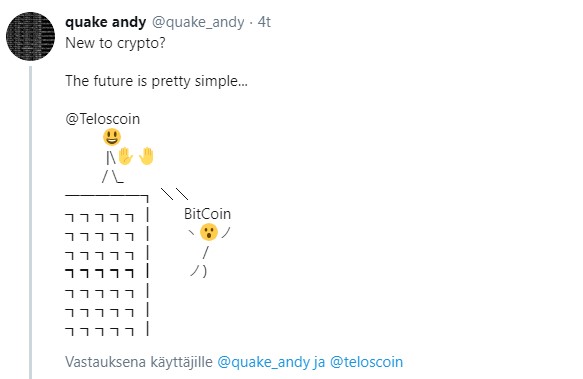 Quelle: @Telosnews
Quelle: @Telosnews
07.09.2019 - 22:36